For me to like cauliflower it has to be cooked just right. Memories of my grandmother boiling it to death in preparation for a Sunday roast put me off this versatile vegetable for years. But after rediscovering a love for cauliflower cheese a few years ago, I've been experimenting with different ways of cooking cauli that doesn't involve a pan of boiling water.
As well as being tasty the humble cauli is packed with vitamin C, B6 and useful quantities of folate, protein and fibre. It's also said to be a natural detoxifier and an anti imflamatory – basically health on a plate.
Whole Roasted Tandoori Cauliflower
I initially found this recipe on My New Roots. I have to admit, having a bit of a love/hate relationship with cauliflower I wasn't sure I was going to like it. So instead of buying a large cauliflower I bought some mini ones – beautiful, sweet, plump Lincolnshire cauliflowers and they worked out perfectly.
Ingredients:
A cauliflower (or 4 mini ones)
4 cloves garlic
Small chunk of ginger
1 Tbsp. tandoori spice
juice of 1 lemon 1
tsp. sea salt
150 ml natural yogurt
In mortar and pestle smash together your garlic, ginger, salt and tandoori spice. Fold in your natural yogurt.
Place your cauliflower(s) in a dish and pour over your lemon juice, this starts the cooking process and will ensure that your cauli is tender once cooked.
Take your spice paste and pour over your cauliflower, sure that it coats the whole of the cauli – including the bottom.
Leave to marinate for 1 – 12 hours (in my opinion, the longer you can leave it – the better).
Placed on a lined baking tray, bake on gas mark 3/4 for around 60 minutes (although, you may want to just check on it after 45 minutes depending on how good your oven is).
—


Cheesy Cauliflower Soup
OK so we're in the middle of heatwave in the UK and the last thing on anyone's mind is soup. But, once the nights start drawing in, this is a great recipe to have on stand-by. I first had cauliflower soup when I had a meal at The Bell in Caerleon. I wasn't sure I was going to like it but felt like giving something different a chance, turned out, I loved in and I've tried to recreate it at home many times.
Ingredients
1 large onion, finely chopped
1 large cauliflower (about 900g/2lb), leaves trimmed and cut into florets
1 potato, peeled and cut into chunks
knob of butter
700ml vegetable stock
400ml milk
100g mature cheddar, diced
Heat the butter in a large saucepan. Tip in the onion and cook until softened, about 5 mins, stirring often. Add the cauliflower, potato, stock, milk and seasoning. Bring to the boil, then reduce the heat and leave to simmer for about 30 mins until the cauliflower is soft and the potato almost collapsing.
Whizz in a food processor or crush with a potato masher until you get a creamy, thick soup. Top up with more milk to thin a little if serving in mugs. You can make ahead up to 2 days in advance, cool, cover and leave in the fridge until needed, or freeze for up to 1 month. When ready to serve, warm through, ladle into mugs or bowls, top with the cheese pieces, then stir through before eating.
—
Cauliflower Pizza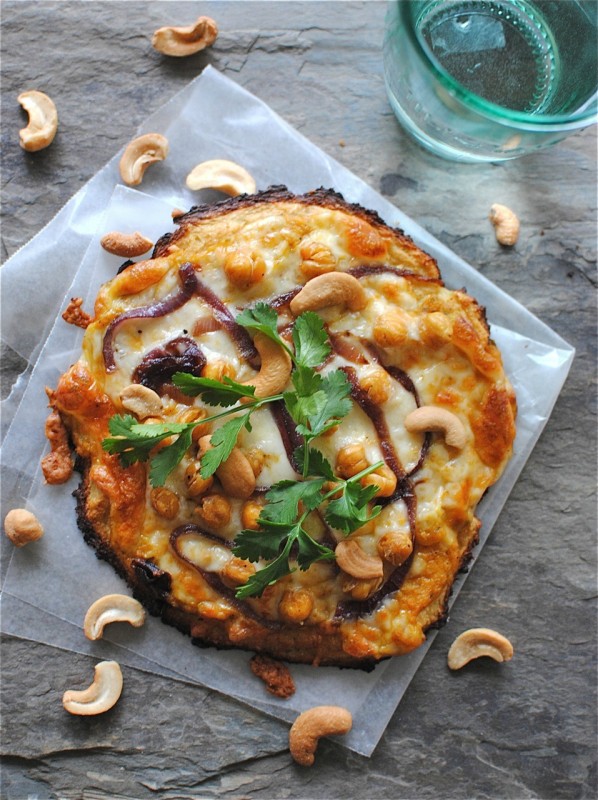 Doing a low carb diet and still craving pizza? Well, THIS is the recipe for YOU! The best recipe I've found is from Bev Cooks. Her recipe for Indian Cauliflower Pizza is utterly gorgeous.
Ingredients for 4 (6 to 8-inch) pizzas:
1 (15 oz) can chickpeas, drained, rinsed and pat dry
1/2 large red onion, thinly sliced
2 tsp extra-virgin olive oil, divided
1 large head cauliflower
2 eggs
8 oz block mozzarella cheese, shredded and divided
1/2 cup all-purpose flour
1 pinch coarse salt and freshly ground pepper
3/4 cup (or more) of your favorite jarred Indian simmering sauce (I used korma!)
1/2 cup sliced cashews
Parsley for garnish
Preheat oven to 450.
Heat a tsp of oil in a large sauté pan over medium-low. Add the sliced onions and sauté until they're tender and browned, about 20 minutes. If you want them to be more caramelized, go longer!
In the meantime, break the cauliflower into florets. In batches, place a few florets in a food processor and pulse until they're "riced." Not pureed by any means, just pretty ground. Place the riced cauliflower in a large microwave-safe bowl. Microwave for 8 minutes.
Using a few paper towels or a cheesecloth, or even a tea towel, squeeze AS MUCH liquid out of the cauliflower as you can. It was hard for me to do this. Maybe I'm a sissy. Then add the eggs, 3/4 cup shredded mozzarella and a pinch of salt and pepper. Toss until it's all combined.
If you feel it's a still a little wet, add 1/2 cup of flour.
Heavily coat a large rimmed baking sheet with cooking spray, and scoop out a large handful of the cauliflower. Press it on the sheet until you get a 6 to 8-inch round, or however large or small you want your pizza.
Slide it into the oven for 10 to 15 minutes, or until the tops are lightly golden brown.
Take it out of the oven and spoon some of the Indian sauce over each pizza (no need to warm it!) Then top with the onions, roasted chickpeas, cashews, and a good sprinkle of mozzarella cheese. Slide back into the oven for another 10 to 12 minutes, or until the cheese is melted and is browned and bubbly.
Garnish with parsley!
Recipe & Image taken from Bev Cooks
How do you like your cauliflower?